WRITTEN BY ALICIA PERSSON
Spring is in the air in Fredericksburg, VA! What started out as a frigid early winter has transformed into an unusually tepid February that has many residents scratching their heads. We've already experienced temperatures in the 60s for the past couple weeks, and there's more to come. Take a look at what's in store in the next week: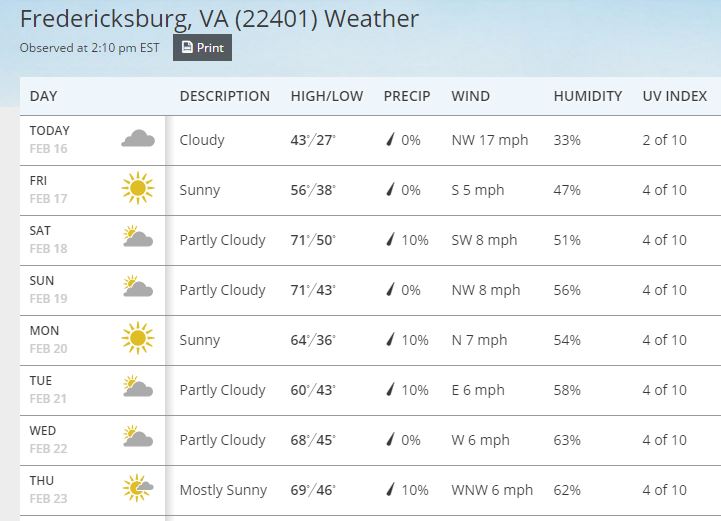 (forecast from weather.com)
Aside from today's chilly afternoon temps that barely break the 40′s threshold, the next seven days contain highs in the 60s and 70s! With the historical monthly average high for our region being 49 degrees, this has definitely been an interesting month for Fredericksburg weather.
The past two weeks of unusually warm weather has brought residents out from their hibernation a bit early this year. We've seen people taking walks downtown while donning a light jacket or even just short sleeves! Dog walks are pleasant and leisurely, while children are allowed to play outside at length because the temperatures are just right.
For anyone concerned about this strange trend, you should know that this weather doesn't beat Fredericksburg's record high of 79 degrees, which was set in 1989. We can also be thankful that we aren't experiencing the region's historical low of 5 degrees! Brr!
"Just enjoy it," says one of our agents in the office today as he heads out smiling to meet more prospects.
Not everyone in town is pleased, however.
"I can't believe how warm it's been," says David, another Fredericksburg local, "I've been waiting for snow but we just keep on getting spring weather."
Indeed, those whose favorite season is winter may be disappointed in the lack of snow or opportunities to use their fireplaces.Teachers and students around town are also silently mourning the lack of impromptu snow days, which have been a mainstay for the past few years.
But who knows what the future holds? An unusually warm February can lead to a frigid March that can satisfy anyone's need for a winter wonderland… right before the coming of the spring equinox. We may yet have another chance to put on our winter hats!